IRender nXt - Ray Trace Rendering For SketchUp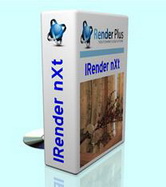 IRender nXt is a new Ray Trace rendering package, based on AccuRender nXt , which is fully integrated into SketchUp.
IRender nXt is a photo-realistic rendering add-on for Google SketchUp .
"If you are a designer and not a rendering geek, nXt is for you. nXt is designed to provide exceptional image quality with easy setup and quick results. "
The SketchUp model that you see on your screen is what will be rendered - with the same view, colors, materials, etc.
You can render at the SketchUp image size, or at any other image size desired.
IRender nXt runs inside of SketchUp and uses SketchUp's geometry, material, textures and sun-poisiton to produce a photo-realistic image.
In addition, you can add other rendering features - such as reflection, glow, plants and trees to make spectacular images.
The final, rendered image can be saved as a JPEG or PNG file. You can also use IRender nXt to produce high quality animations.
Link :
http://nxt.accurender.com/
http://www.renderplus.com/wk/IRender_nXt_w.htm