Crossmap + Color Extract Lite Edition - 3DS Max Plugin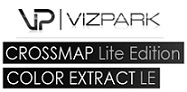 Crossmap Lite Edition
Crossmap Lite Edition is a limited version of the full product CROSSMAP,
a 3Ds Max shader that randomly distributes bitmaps on geometry
(objects, elements, faces etc.).
Just select a folder with bitmaps and leave the rest up to Crossmap LE.
Crossmap creates more variety among visualization projects easy and fast,
for example leaves on trees, grass, gravel, stones, flowers, wood fences and many more.
------ vizpark.com ------
MAIN FEATURES
- Fast loading of multiple images at once (limited to 3 bitmaps with LE version)
- Random distrbution on multiple objects, elements and faces of an object
- Random color variation on distributed image instances
- Compatible with ForestPackPro
----- vizpark.com -----
Color Extract Lite Edition
Extract and randomize colors …
Whenever you tried to get color variations on objects you were probably encountered with picking
different colors from photos and assigning them to materials and objects to get more variation.
What a tedious task!
----- vizpark.com -----
COLOR EXTRACT Lite Edition extracts up to 3 colors (100 colors in full version) from any photo and
randomly assigns them to objects, object elements or even procedural maps in 3Ds Max.
Just load any photo, extract colors and render. It has never been faster before to create or exchange
multiple colors at once. And it has never been easier to exchange and use multiple natural colors from
photos before. Color Extract is especially useful, but not limited, to natural elements like grass, leaves
of a tree, stones, sand, clouds, and many more.
The example above shows Forest Pack Pro together with Color Extract (full version).
Here different source photos were used to extract multiple colors and randomly assign them to the tree instances.
----- vizpark.com -----
MAIN FEATURES
- Extract up to 3 colors (100 colors in full version) from any bitmap
- Random distribution on multiple objects, elements or faces of an object in ONE material
- Extend existing procedural maps with more colors
-Tested in 3Ds Max with Scanline, Mental Ray and VRay
- Also works with Forest Pack from iToo Software and Multiscatter
- Unlimited rendernodes included
----- vizpark.com -----
More Info...
Crossmap Lite Edition Link :
http://www.vizpark.com/shop/crossmap-le/
Color Extract Lite Edition Link :
http://www.vizpark.com/shop/color-extract-le/
Link :
http://www.vizpark.com/